Experience Unmatched Guitar Capos with Elliott
Elevate Your Music with the Best Capo Money Can Buy
√ Crafted for Perfection
√ Unleash Musical Brilliance
√ Elevate Your Guitar Experience
Experience Unmatched Guitar Capos with Elliott
Craftsmanship, Precision, and Exclusivity – Elevate Your Music with the Best Capo Money Can Buy
At The Guitar Bar, we're the exclusive Elliott dealer on the European mainland. If you're seeking the pinnacle of guitar capos, you're in the right place. Say goodbye to mediocre capos with flashy gimmicks and pseudoscientific claims. Elliott capos stand above the rest, and legendary musicians like Tony Rice agree – they are simply the best you can get. Explore our extensive selection of Elliott capos and discover a world of authentic craftsmanship and precision that will revolutionize your guitar playing.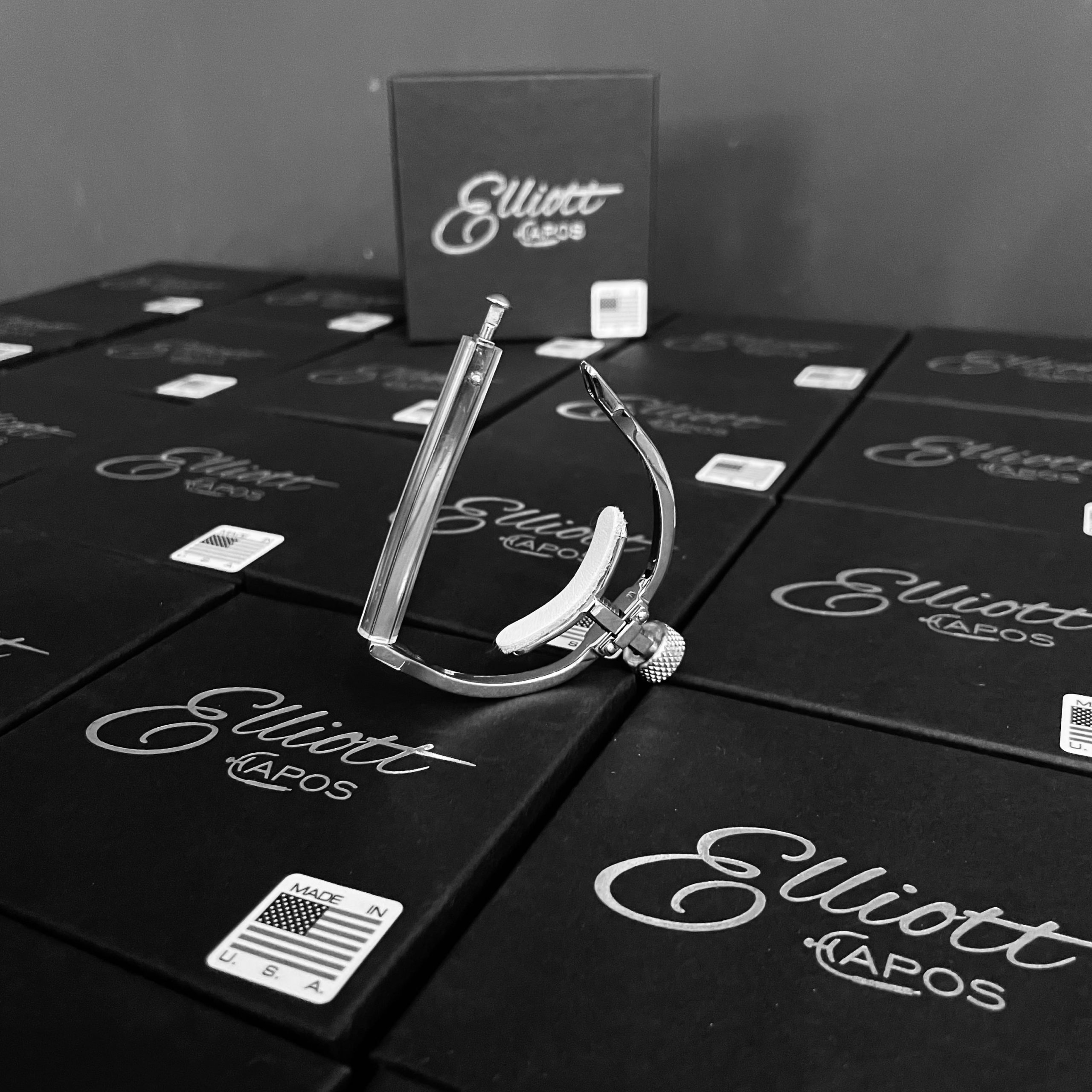 Discover the Artistry of Elliott Capos
The Harmonious Trio
1. Elite Capo: Where Refinement Meets Comfort
Discover the Elite Capo – Perfect Harmony of Comfort and Precision
Crafted with utmost care, the Elite Capo is a testament to innovation and refinement. Designed for both guitar and banjo, its sleek profile offers unparalleled comfort for your fretting hand. The patented Elliott "push-button" quick-release top-bar locking system, combined with the McKinney-style saddle, ensures effortless alignment over the fretboard. Embrace elegance and protect your instrument's finish with genuine leather padding. Elevate your performance with the Elite Capo, where comfort and precision unite in harmony.
2. McKinney Capo: Embracing Tradition with a Modern Touch
Unveiling the McKinney-Elliott Guitar Capo – Timeless Beauty with Modern Precision
Join a treasured tradition of impeccable craftsmanship with the McKinney Capo. Meticulously hand-crafted from stainless steel and polished to a mirror finish, it exudes timeless allure. The unique saddle, guided by a frame and tang, ensures precise alignment over the fretboard. Wrapped in genuine leather padding, it cradles your instrument's neck with care. Embrace the legacy of Tom McKinney's original design, exclusively authorized by Elliott Capos since 2005. Experience the harmonious blend of tradition and modernity with the McKinney Capo.
3. Push Button Capo: Elevating Convenience and Style
Unleash Elegance and Convenience with the Patented Elliott Guitar Capo
Dive into the world of sophistication with the Patented Elliott Guitar Capo. Hand-crafted from stainless steel and polished to a mirror finish, it epitomizes style and convenience. The exclusive 'push-button' locking top-bar system allows easy on/off operation, adding joy to your musical experience. Embrace the unique wrap-around saddle design, cradling your instrument's neck for secure centering over the fretboard. Wrapped in genuine leather padding, your instrument's finish remains protected. Elevate your performance with the Elliott Guitar Capo – a fusion of elegance and convenience.
Elliott Capos: Elevating Your Musical Odyssey
Unlock the trio of unique selling propositions that redefine your capo experience:
1. Hand-Crafted Perfection

Forged from high-quality stainless steel, each capo embodies a masterpiece of durability and elegance. With meticulous attention to detail, Elliott Capos are a true symphony of artistry, resonating with the discerning musician.
2. Unique Self-Centering Design

Envision flawless playability with the self-centering saddle design. The embrace of genuine leather padding safeguards your instrument's finish, allowing you to create without compromise.
3. Studio Quality Finish

Savor the sophistication of polished mirror or satin glow finishes. Elliott Capos transcend functionality, emanating an aura of elegance that harmonizes seamlessly with your musical expression. Tailored to embrace your instrument and elevate your music to uncharted heights.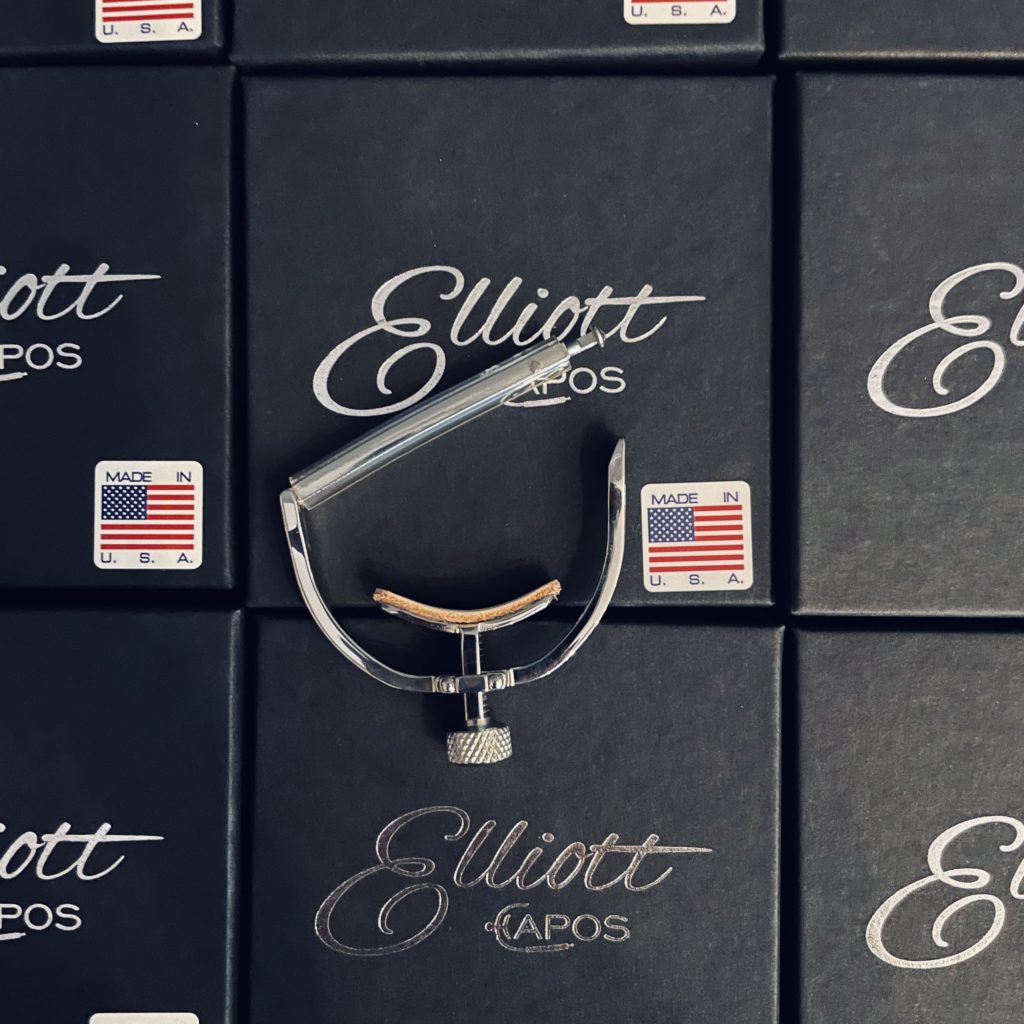 Your Melody, Our Passion
The Guitar Bar isn't just a store – it's a dynamic hub pulsating with music, community, and connection. Join us for intimate concerts, workshops that ignite creativity, and events that celebrate the very rhythm of life. Whether you're exploring our updated inventory online or stepping into our enchanting space, we extend an invitation to share moments and melodies that harmonize with your musical journey.
Nestled in the heart of Antwerp's historic city center, our unique haven seamlessly fuses the artistry of guitars with an ambiance of craftsmanship. As you embark on your journey to find the perfect Elliott Capo, here's why The Guitar Bar stands above the rest: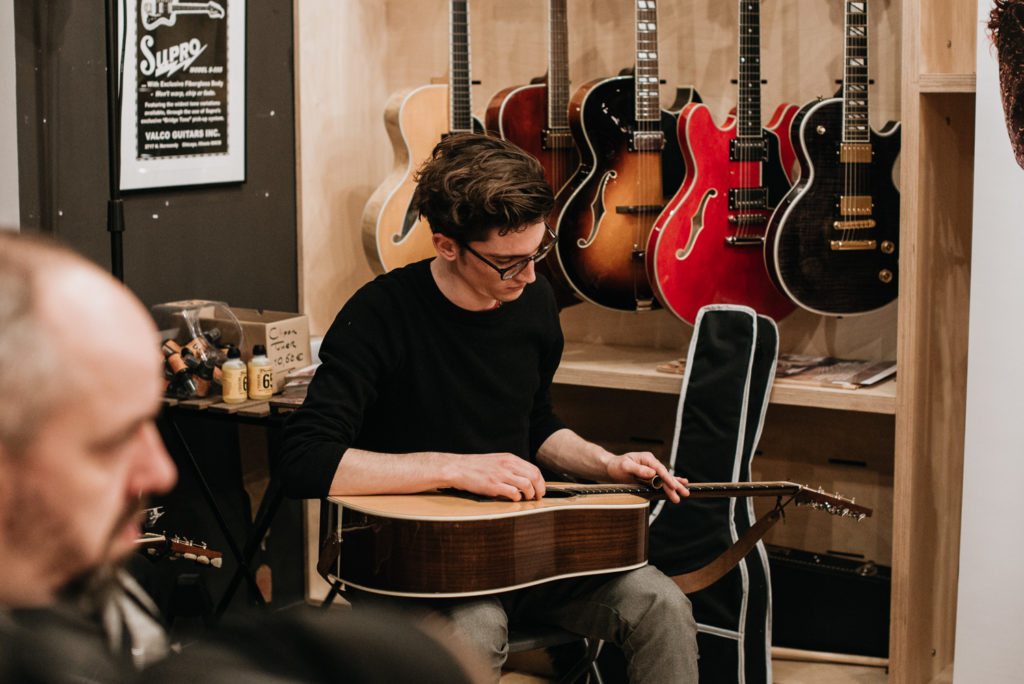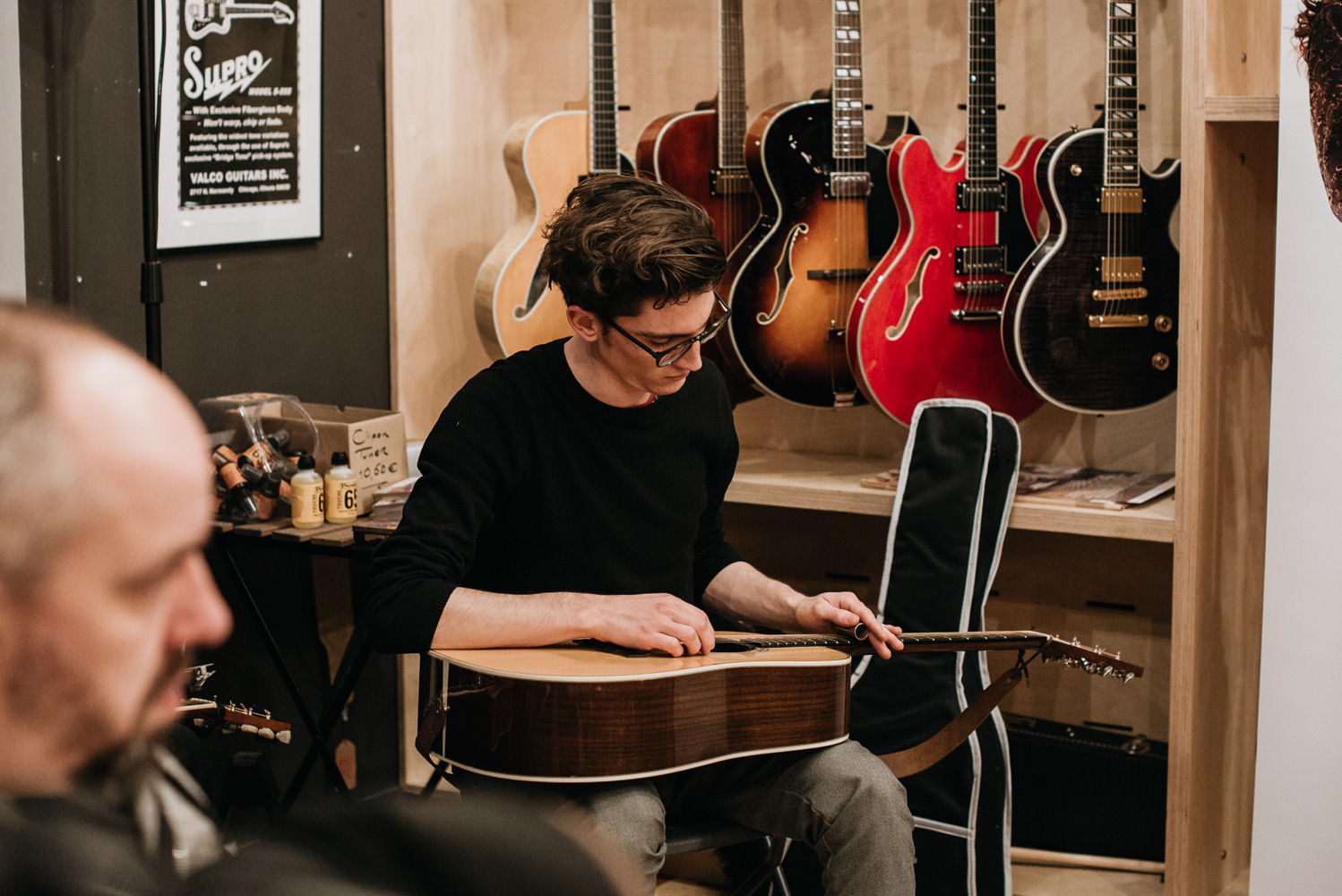 1. Expertise and Enthusiasm

Our establishment is an ensemble of seasoned professionals – a guitar retail veteran, a gifted luthier, and a skilled musician. Together, we craft an unparalleled experience that nurtures your musical aspirations. With unwavering passion, we curate a spectrum that spans from beginner guitars to exclusive boutique instruments, ensuring every step of your musical journey is well-guided.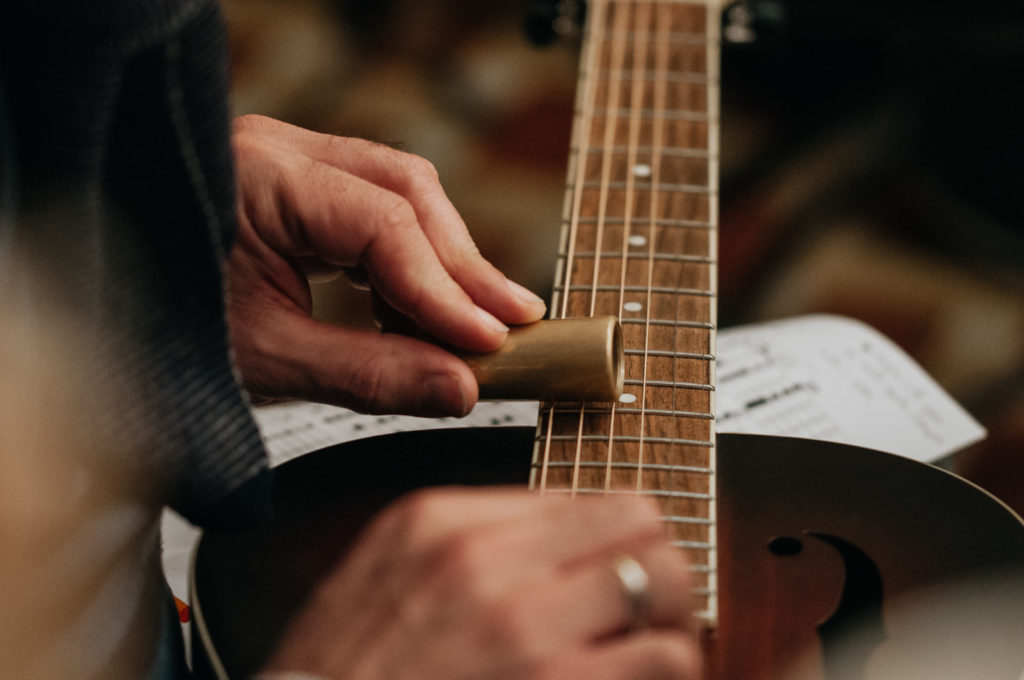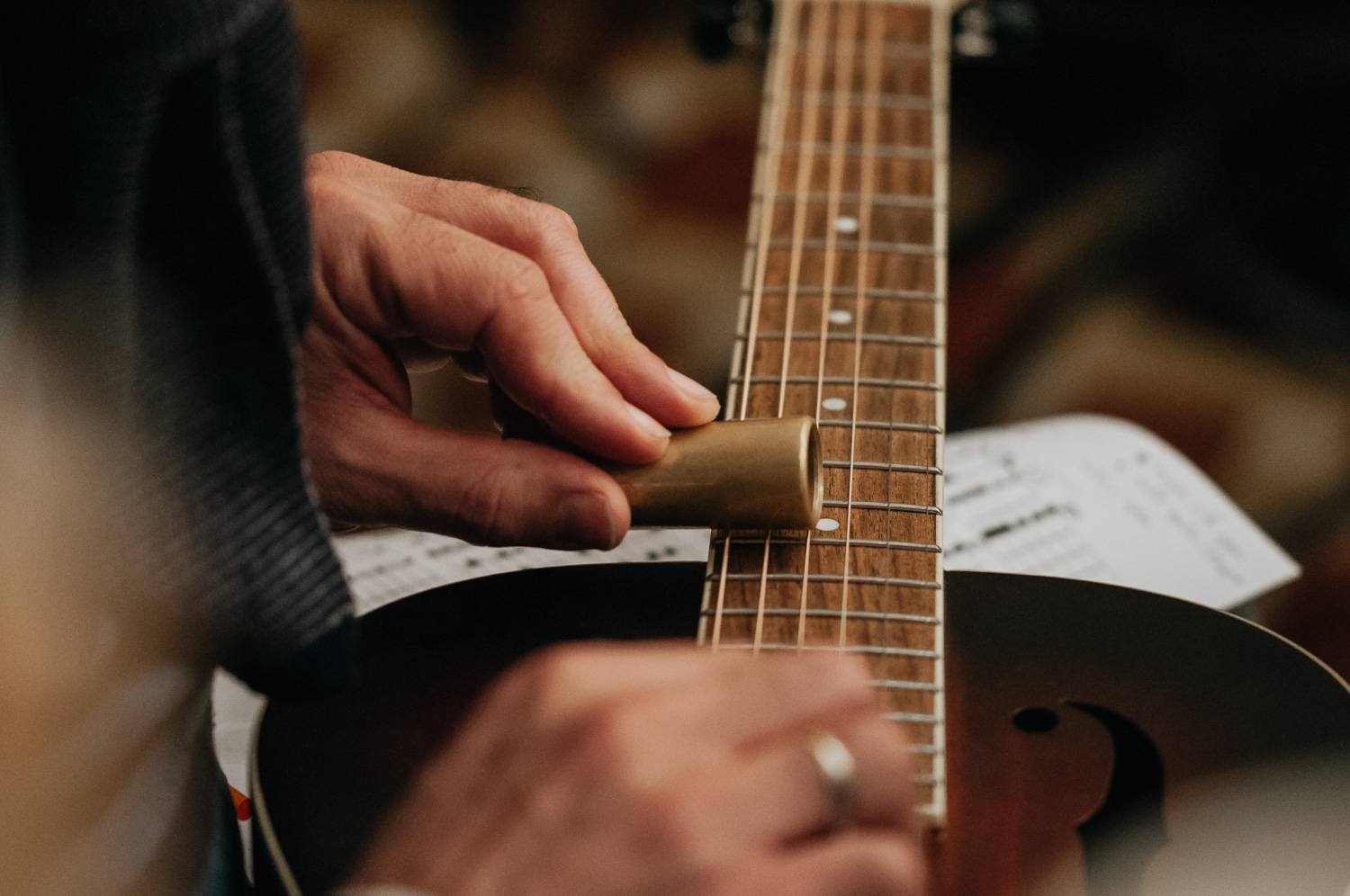 2. Curated Collection

Delight in an orchestra of electric and acoustic guitars, amplifiers, effects, pedalboards, cases, bags, strings, straps, picks, care products, and an exquisite array of guitar parts. We seek out brands that breathe authenticity and innovation, sourced from corners of the world where excellence thrives. With every product we offer, we share our belief in quality and distinction.
3. Craftsmanship Elevated

Beyond our doors lies a sanctuary where your musical companions find meticulous care. Our in-house luthier lovingly tends to setups, repairs, maintenance, and customization, ensuring your guitar performs with unwavering excellence. Every Elliott Capo you acquire from The Guitar Bar is a testament to the dedication and artistry that resonate within our walls.